We are currently putting the Visitor's Rides page on HOLD. We are thinking of setting this page up for the Forum's Selected Visitor's Ride of the month. If you have any feedback, let us know on the forum. Visit the forums here: Forums
Visitor's Trucks: 1 2 3 4 5 6 7 8 9 10 11 12 13 14 15 16


Bert Bonfili of Charlotte, NC stopped by to give us these pictures of his 1987 V20 HD. The TBI 350/TH400 combo has been modified with a K&N air filter, Accell ignition, and a 3" aluminized exhaust with hi-flow cats round out the mods to the 174,000 mile power plant. The suspension set-up features a 2.5" lift up front and a 3" lift out back, Warn hubs, Lock-Right locker, 4.10 gears, NP208 T-case, Weld Super-Single wheels, and Goodyear tires. Inside the Custom Deluxe has been upgraded with electronic components from Alpine, Rockford Fosgate, and Cobra to make the ride more enjoyable. Thanks for the pictures Bert.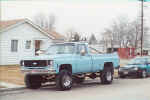 John Haynes of Nampa, Idaho snapped this shot of his 1976 Chevy. John's truck is currently powered by a 350, but a 454 bored .020 over is soon going to take up residence under the Chevy's hood. Running gear includes a full floating axle, 3.73 gears, and an all stock front end. Mounted on each corner are 16.5" rims shod in Wild Country 12.5x35" rubber. For the interior John relied on Pioneer components to keep riders entertained. Thanks for the picture John.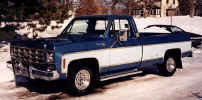 You guys aren't going to believe this one. John Pearson of Minnesota is the proud owner of this rust-free, 72,000 mile, original, 1977 Chevy Heavy Half Cheyenne. That's right, I did say rust-free and Minnesota in the same sentence. According to Bill, his father gave him the truck for his 21st birthday, and the truck has never been driven in salt or snow except for this picture! The truck is equipped with a 350, air conditioning, tilt, cruise, dual tanks, and a wooden bed floor. Bill still has the original wheels, hubcaps, and am radio stored away in case he ever wants them. Thanks for sharing your truck with us Bill.


Jason Warren of Clarksville, Arkansas submitted these shots of his 73 Cheyenne 1/2 ton. Jason was given this truck as a gift from his father (who bought it new in January of '73) for his sixteenth birthday. The truck had 100,000 miles on it then. The truck was originally equipped with a towing package, wood grained door and dash inserts, clock, and a unique yellow roof instead of white. The truck now sports a 300hp GM crate motor and a 700r4 transmission. The frame has been completely detailed and the interior is now receiving all of Jason's attention. Look at how clean this truck is under the hood. Thanks for the pictures Jason.


Roger Krogulski stopped by to show off his 1979 Silverado Stepside. Power is provided by a 350 topped with a Weiand intake and backed by a Turbo 350. The body has been covered in '95 Corvette Blue and is soon to receive a new oak bed floor. Other plans include an engine rebuild and lowering the truck. Thanks for the pictures, and keep us updated on the progress.
Visitor's Trucks: 1 2 3 4 5 6 7 8 9 10 11 12 13 14 15