We are currently putting the Visitor's Rides page on HOLD. We are thinking of setting this page up for the Forum's Selected Visitor's Ride of the month. If you have any feedback, let us know on the forum. Visit the forums here: Forums
Visitor's Trucks: 1 2 3 4 5 6 7 8 9 10 11 12 13 14 15 16


John Leport rescued this 1986 GMC 1500 from a junkyard in 1998. The totaled out truck was restored to like new condition. The GMC has a new 350 with real dual exhaust residing in place of the old 305 single exhaust stocker. According to John he is still working on the truck. Good luck with the rest of your project John!


Howard Golub submitted these shots of his 1985 C/10 Scottsdale. The truck had 66,000 miles on it when Howard purchased it in 1988. It currently has 200,000 miles on the odometer. According to Howard, the 305 powered stepside has made a few cross-country trips and even spent a few years in Hawaii with him. In that time he says the truck has never left him stranded. Thanks for sharing your truck with us Howard.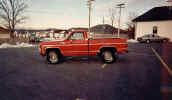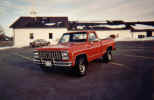 David Cantrell sent us this picture of his 1980 Silverado Z80. According to David, his truck was originally a blue farm truck that he totally rebuilt to drive like new. The results are a stunning Porsche red Silverado that has100,000 miles on its 350. The truck has is equipped with air conditioning, tilt wheel, cruise control, power locks, power windows, and a spray on bed liner. Congratulations on a great looking truck David.

Milo sent us these pictures of his recently completed 73 Chevy. His heavy duty 3/4 ton camper special is powered by a 454 steel cranked big block backed by a turbo 400 tranny. Further back we find 3.71 rearend. According to Milo, "Cruising at 90-100 mph is not problem at all." He has plans to eventually replace the TH-400 with a TH-700 with overdrive in hopes of improving his mileage. Thanks for the picture Milo.

Shawn Greene sent in this picture of his 1978 K10 pickup. Shawn's 4x4 is motivated by a 350 4 bolt that Shawn pumped up with an MSD ignition, Accel coil, Edelbrock Torker intake, Holley 650 carb, and a Dynomax exhaust system. The truck rolls on 33x12.50x15 Futura Dakotas and also features a custom interior. Shawn has plans to add limited slip 4:11 differentials to his truck Thanks for the picture Shawn.
Visitor's Trucks: 1 2 3 4 5 6 7 8 9 10 11 12 13 14 15