We are currently putting the Visitor's Rides page on HOLD. We are thinking of setting this page up for the Forum's Selected Visitor's Ride of the month. If you have any feedback, let us know on the forum. Visit the forums here: Forums
Visitor's Trucks: 1 2 3 4 5 6 7 8 9 10 11 12 13 14 15 16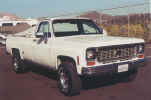 Bob Bliss is the proud owner of this 1974 K20. Bob and his son have been restoring their rig. Bob's son laid down several base coats of PPG GM Bright White sealed with multiple clear coats. The undercarriage includes a rebuilt transmission that sends power to two sets of 4:10 gears in a 14 bolt full-floater and Dana 44 which spin 33 X 16.5 Wildcats. A custom built 383 Stroker is in the works and is rumored to include an Edelbrock carb, intake manifold and custom headers. Future mods also include updating the interior. Thanks for the picture and keep up the good work guys!

Bruce Latulip of Ft. Lauderdale, Florida sent in these shots of his '87 Stepside. Bruce's truck has seen a host of modifications in its fifteen year existence. At the heart of this truck is an IROC-Z TPI engine that features a Hypertech chip, K&N filter, Edelbrock Jet Hot coated headers, and an Accel digital ignition system. This combination is cradled in owner fabricated stainless steel motor mounts. The TPI's power is set in motion through a B&M floor shifter, sending power to a Powertrax Posi unit with 3:73 gears, that bites the pavements with custom traction bars.
Interior mods include tons of billet accents, '87 Escort GT buckets seats, '92 S10 steering wheel, and a Blaupunkt/Polk audio system to make the ride more enjoyable. The exterior of this black beauty was not overlooked either. After shortening the gap between the frame and the pavement with a 3/4 drop Bruce added 15x10 Centerline Billet wheels. The body features a fiberglass cowl hood, custom billet wing windows that support Beretta mirrors, BMW 325I rear bumper, custom Bowtie tail lights, and a solid oak bed floor. Bruce has built a truck that not only looks good, but is fast too. Thanks for the pictures Bruce.

Chris sent us this solitary shot of his Dutch Suburban. Chris's GMC is powered by a 454 with a rust problem. Chris also stated that the only other "typical Dutch problem" is finding a parking space for such a big truck. Thanks for the picture Chris.


Morgan Hamilton snapped these stills of his 1987 Silverado C20. Morgan's truck is powered by a fuel injected 350 backed by a 4 speed automatic transmission. The truck is used as a daily driver/snowmobile hauler and has 350,000 km! According to its owner it is still going strong. Thanks for the pictures Morgan.

Eric Roeland from Holland sent in this shot of his K30
that once served time as a military truck. According to Eric it is a M1008. The suspension has been altered with a 4" with Trailmaster suspension lift and 35x10x16 BF Goodrich rubber on shiny rims. The diesel powered one-ton's exterior has been updated with lights and chrome steps. Thanks for showing us your truck Eric.