We are currently putting the Visitor's Rides page on HOLD. We are thinking of setting this page up for the Forum's Selected Visitor's Ride of the month. If you have any feedback, let us know on the forum. Visit the forums here: Forums
Visitor's Trucks: 1 2 3 4 5 6 7 8 9 10 11 12 13 14 15 16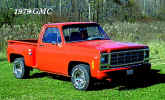 Here's a shot of Chad Sinnett's 1979 GMC High Sierra. For motivation it relies on a 325+ horsepower 350 connected to a TH350. The straight sheet metal has been covered in Flame Orange paint. To complete the exterior aesthetics, American Racing 454SS look-a-like wheels are placed in all four corners. Behind doors #1 and #2 is a modified interior with bucket seats and a center console.
Update 08/22/01:
Chad has since updated the supsension using DJM products to lower the front three inches and the rear five inches. Thanks for the great pictures!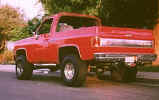 Rick Rosenthal of Clovis, California sent in these pictures of his 78' K5 Blazer for the world to see. Rick's Viper Red K5 is powered by a 350 crate motor with Edelbrock intake and carburetor, 90 amp alternator, and Doug Thorley headers that route the exhaust through 2 1/2 inch pipes and into Flowmaster mufflers. The 350 is backed by a Turbo 350 transmission and a 203 transfer case directs the power to all four 33x12.50x15 BFGoodrich tires.
On the inside, Rick's ride is covered in two tone custom crushed velvet. To complement the velvet, the K5 has a Wabbit's wood dash kit, Grant wood steering wheel, JVC CD player, 2 amps, 2 10" subs, power windows, power locks, tinted windows, and various billet accessories. As a tribute to Rick's favorite NFL team, an "SF" has been etched into the rear window, and the license plate reads "49ERK5". Thanks for the pictures Rick.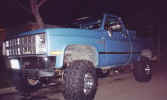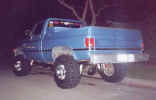 Ryan from Fremont, California sent us this picture of his 87 Custom Deluxe. Ryan's shortbed features a 6 inch lift and 35x15.5 TSL/SX Super Swampers on 15x10 A/E 589 wheels. Under the hood lurks a 305 bored .030 over. The small mouse is stuffed with a Crane Cam, topped by an Edelbrock intake and Holley TBI, and ignited by an MSD ignition. A 700R4 tranny sends the power to a 10 bolt rear end with a Detroit Locker, and a Dana 40/Detroit locker combo upfront. Inside Ryan has added a Pioneer CD player, Infinity Kappa 6x9's and 3 1/2's, and thumping behind the seat are two MTX 10" subs powered by an MTX Thunder amp. According to Ryan, his truck holds it's own in the mud. We can see why! Thanks for the picture Ryan.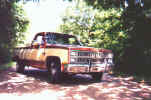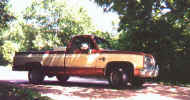 Jon Blackwell from Stillwater, Oklahoma sent in these pictures of his 1982 Silverado. Jon has just started his project and has some big plans for it. To this point Jon has trashed the 305 and dropped in a 350/350 combo. Inside he's added a new bench seat, dash, carpet, tachometer, Blaupunkt head unit, 2 JBL 10's, amplifier, and a CB. On the outside he has added undercarriage lights, strobe lights, tool box, tailgate net, and a CB antenna.
Jon plans to build the 350 up, add new paint, increase the ground clearance of the 4x2 with a 7" lift and 35" tires, light up the night with a set of KC daylighters, and add a hood scoop. Jon says he never plans to get rid of his truck. With the plans he has for it he should be busy for awhile! Thanks for sharing your truck Jon.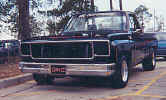 Jason Bassett of Alabama sent us these pictures of his 1978 GMC Sierra. Jason's GMC is powered by a 350 bored .060 over and stuffed with TRW pistons. A pair of Sportsman II heads rest on each side of the block, and inside is a GM performance parts DZ302 cam. Topping the small block off is a GM Bowtie intake and Holley 750 carb. A TH350 and B&M 3000 stall send the power to a 12 bolt rear end which houses Richmond 4.10 gears and an Auburn mini spool. Thanks for the picture Jason.