We are currently putting the Visitor's Rides page on HOLD. We are thinking of setting this page up for the Forum's Selected Visitor's Ride of the month. If you have any feedback, let us know on the forum. Visit the forums here: Forums
Visitor's Trucks: 1 2 3 4 5 6 7 8 9 10 11 12 13 14 15 16


Tim sent in these shots of his super clean '87 V10 Silverado stepside. The body has been repainted with LT Driftwood Metallic paint. The bed is currently receiving a new wood floor to compliment the new body color. On the inside you'll find an interior that's as clean as the exterior and is updated with a factory tach and a 160 mpg speedometer. Why a 160 mpg speedo? At the heart of this truck lies a 1988 350 TPI/700R4 combo donated by a TransAm. The ponies find their way to the pavement through a 3:42 posi-trac rear end that spins steel rally wheels. Future plans include a 95 LT-1. Watch out for this truck! Thanks for sharing Tim.


James Wells sent in this picture of his '86 Silverado. The 305 has been tossed in favor of a 350 out of a '96 truck. The 350 is adorned by an chrome Chevy logo valve covers, Edelbrock Performer intake and carb combo, and an Accell distributor. Looking through the back glass you'll see new oak on the bed floor complete with polished stainless strips. Future plans include modifying the interior with billet pieces, and a new dash and carpet. Update 11/7/02: James recently sent in these new pictures of his truck with new 17" billet wheels and fresh engine with Vortec heads, Comp cam, and Vortec intake. Thanks for the update James!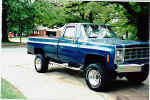 Thad Yeargain of Bolivar, Missouri sent in this picture of his brother's (Bob) truck. The 1980 3/4 ton Custom Deluxe began as a rusted out piece of tin. The brothers the began frame up restoration by sandblasting and painting the original frame. Under the hood sits a 350 horse 350 backed by a 4-speed tranny. The 4-speed is mated to and np205 T-case that sends power to the .373 axles. Good work guys!


Jason Warren of Clarksville, Arkansas submitted these pictures for your viewing pleasure. Jason's truck is a 1973 Cheyenne 1/2 ton that he received for his 16th birthday. It was ordered by his father in '73 with a factory yellow roof rather than the usual white. The truck also was ordered with a towing package. The truck has been extensively restored. The body has been repainted the original colors and the frame has been fully detailed. The original engine was scrapped for a 300 horsepower GM crate motor. The original 3 on the tree was replaced by a Turbo 350, and a 700R4 now performs the shifting duties. The interior is currently being restored with new gauges and headliner. Thanks for the pictures Jason.


Roger Krogulski is the proud owner of this '79 Silverado. The 350 residing in the engine bay is topped with a Weiand intake, lots of chrome, and is backed by a Turbo 350. The body has been smoothed and shot in 1995 Corvette Blue. Future plans for this truck include a new oak/chrome bed, 3/4 lowering job, and an engine rebuild. Keep us posted on the progress.