We are currently putting the Visitor's Rides page on HOLD. We are thinking of setting this page up for the Forum's Selected Visitor's Ride of the month. If you have any feedback, let us know on the forum. Visit the forums here: Forums
Visitor's Trucks: 1 2 3 4 5 6 7 8 9 10 11 12 13 14 15 16

Doug Warren sent us this picture of his gigantic 82 Chevy. It features a rebuilt 454 with an RV cam, Hooker Headers, Edelbrock Performer Intake, Accel ignition, Holley Carb, and (in Doug's own words) two "big honkin" Glass packs! Doug plans to continue to make improvements to the truck and states that it has plenty of room for the family and is great for towing. Thanks for the picture Doug.

Bob Waraksa sent us this picture of his 1983 K-30. Bob's truck is equipped with a factory 454 that is ignited with an Accel coil and Jacobs 8.5mm plug wire with ceramic boots, guzzles gas and mixes air via a Holley 750 carb atop an Edelbrock Performer intake, rumbles with a Competition Cams Hi-performance cam and roller tip rockers, and exhales through a set of Hooker headers linked to a 2 1/2" dual exhaust with crossover and turbo mufflers. The K-30 rolls on 16.5" x 9 3/4" polished aluminum wheels mounted on 33" BF Goodrich tires. It also features two winches: a Warn Electric Winch (front bumper) and a Hickey Sidewinder Electric Winch (under rear chrome step bumper). According to Bob his truck has 48,000 original miles and, "Gets terrible gas mileage, but fun to drive!" Thanks for the picture Bob.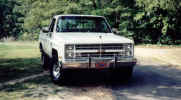 Shane Stevens sent us this picture of his 1985 Chevy 4x4. Shane's truck has a 305 with 115,000, but still runs great. Shane is also building a 350 4 bolt main to drop in his 4x4. According to Shane he just bought the truck from a one-owner family and loves it. Don't we all? Thanks for the picture Shane.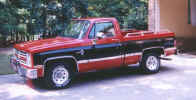 Mark Crump from Alabama is a persistent guy. He hunted for 8 months to find his 1987 Silverado SWB, and spent another year convincing the owner to sell it! Mark's 113,000 mile truck is equipped with a 5.7 litre V8, automatic transmission, power windows and locks, tilt, cruise, AM-FM Cassette, AC, factory sliding rear window, factory aluminum wheels and red interior. According to Mark, people think he's crazy for keeping the truck because he is a car salesman. We understand why he chose to keep it. Thanks for the picture Mark.


Mitch Friedman from San Antonio sent us these shots of his 1977 stepside. Mitch's daily driver is motivated by a 350 engine featuring an Edelbrock intake manifold, and coming soon, a new carburetor and headers. Modifications to the body include a wood bed, tool box, tonneau cover, bed rails, GM stainless side steps, remote alarm, and tinted windows. The interior has been updated with a detachable face stereo, amplifier, and speakers and tweeters mounted in the ceiling, doors, and behind the seat. Up next for the 77 stepside is a new paint job. Thanks for the picture Mitch.
Visitor's Trucks: 1 2 3 4 5 6 7 8 9 10 11 12 13 14 15