We are currently putting the Visitor's Rides page on HOLD. We are thinking of setting this page up for the Forum's Selected Visitor's Ride of the month. If you have any feedback, let us know on the forum. Visit the forums here: Forums
Visitor's Trucks: 1 2 3 4 5 6 7 8 9 10 11 12 13 14 15 16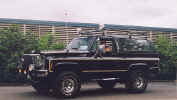 Rob Butler from Milwaukie Oregon submitted this shot of his 1977 GMC Jimmy. This Jimmy is not only really cool looking, but is also somewhat famous. Rob's rig was one of 20 trucks featured on a poster by AutoArt Magazine and also had a cameo in a Bigfoot documentary called "Sasquatch Odyssey" that aired on The Learning Channel. The beast gains ground clearance with five inches of lift and 35" tires. An 8,000 pound Warn winch and four 500,000 candlepower lights ensure that Rob makes it back from off-road expeditions. Under the hood lies a proven 350/350 combo. Thanks for the picture Rob.

Bruce from California sent in this shot of his 77' K5 Blazer 4x4. The red Blazer's 350 remains mostly stock and has a new smog set-up to remain legal in California. The K5 also features a 4 inch suspension lift for added ground clearance. Thanks for the picture Bruce.
Chris Harker submitted his 1984 GMC Sierra Classic. The GMC is powered by a 350 that has been bored .040 over, stuffed with a hotter cam, and expends spent gasses through Heddman headers into a 2.25 inch true dual exhaust.. Chris plans to add new heads to the mill and possibly multi-port fuel injection. Behind the 350 is a four speed tranny. Chris also hopes to swap it for a th400. The current four speed sends the HP's to a 12 bolt 3.08 posi rearend. On the inside Chris's ride is filled with Auto-meter gauges, a Clarion CD player, Infinity speakers and sub being fed 400 watts, and seating for the rig is courtesy of Camaro bucket seats. Chris rolls on 32x11.5x15 BFG AT's wrapped around 15x10 AR Atlas rims. Thanks for the picture Chris.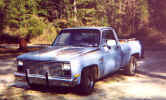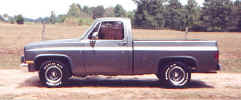 Will Triplet of Emerson, Arkansas sent in these before and after shots of his 81 GMC. Will has rebuilt the engine with a set of TrickFlow 23 degree heads, CompCams 270 Extreme Energy stick, Holley carb and intake, and a recurved distributor. After finishing the engine he turned to the transmission and upgraded it with a 2500 Dayco stall converter and a shift kit. The rear holds 3.73 gears and an Auburn pro series differential. With the running gear in order, Will turned his attention to the body and interior. He did all the bodywork, sprayed the paint, and even reworked the interior. According to Will the truck runs 13.88 @ 96 in the 1/4 mile. He's hoping that a little tweaking will bring him into the high 12's. Thanks for the pictures Will.


Josh Pavia from Yuma, Arizona sent in these pictures of his incredible looking 1973 Chevy's fresh restoration. One of the most striking features of this truck is the incredible paint job. According to Josh the exterior was sprayed with 1998 Chevy Metallic Forrest Green, the paint was then color sanded, topped with three coats of clear, and finally buffed to a perfect shine. Under the hood of this green monster lurks a 454 that has been bored .060 over, stuffed with a huge cam, and topped with an Edelbrock intake and Holley 670 Street Avenger. The rat relies on headers and dual Flowmaster mufflers and pipes to flow exhaust out the back. A TH400 transmission and 4.10 gears put all of this power to the pavement. Josh's future plans include installing bucket seats and a new steering wheel. Thanks for the picture Josh.
Visitor's Trucks: 1 2 3 4 5 6 7 8 9 10 11 12 13 14 15