We are currently putting the Visitor's Rides page on HOLD. We are thinking of setting this page up for the Forum's Selected Visitor's Ride of the month. If you have any feedback, let us know on the forum. Visit the forums here: Forums
Visitor's Trucks: 1 2 3 4 5 6 7 8 9 10 11 12 13 14 15 16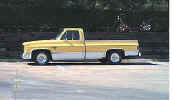 Brett Sawyer of Dallas, Texas sent us this picture of his 1982 Silverado longbed. Brett bought the truck 7 years ago from the original owner when it had 75,000 miles on it. According to Brett the truck was in very good condition when he purchased it. Under the hood the 82' is running the original 305 and 350 transmission with 150,000 miles on it; however, it won't be for long. Brett has a 383 TPI that's just waiting to find its home between the frame rails of this Silverado.
Modifications to the 305 have been limited to the cooling/charging system. Brett has bolted on serpentine belt brackets and accessories from an 89' IROC, updated the A/C, and added a four-core radiator with twin electric fans. On the outside the paint is the original Colonel yellow and Almond white. On the inside the factory gauges have been replaced with Auto-Meter Ultra-Lite gauges and a B&M torque converter lock-up control has also been added.
Underneath the suspension has been updated with energy suspension polyurethane bushings and 2.5 inch western chassis spindles and a 4-inch shackle/hanger kit. Helping it stick to the road are a pair of 255 BFG's in front and another pair of 275 BFG's in the back. We can't wait to see this truck with the TPI. Keep us updated Brett.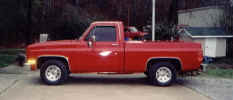 Gary Elliott from Mississippi emailed us this pictured of his 1984 Chevrolet. Under the hood of this red shortbed lurks a 350/350 combination with a dual exhaust and an 18 inch glasspack on each 2 1/2" pipe. This power is transmitted to a 3.08 rearend and put to the pavement via 15x8 eagle alloy rims. Hiding behind those tinted windows is a late model seat and a Kenwood stereo system. Gary has also added a billet grille to the nose of his truck. According to Gary he plans to keep this truck for a long time. Thanks for the picture Gary.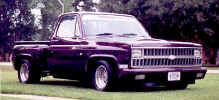 Blake Michaleski of Denham Springs, LA sent us this super-cool 1981 stepside. A frame off restoration was done in 1997 leaving Blake with a great looking ride. On the topside the body was stripped of its chrome and trim pieces to smooth it out and clean it up the sheet metal. After everything was smooth the stepside was covered in PPG dark purple pearl paint applied by Stan at J&S in Addis, LA. Check out the bed and you'll find an oak floor, louvered tailgate, and a ZR-1 roll pan. To achieve the proper stance, Blake dropped his truck 3'' up front and 5'' outback (soon to be 5/7). To finish off the exterior he added Weld Prostar wheels, 15x8 in front & 15x10 in back, and wrapped them in Cooper Cobra rubber.
The interior is as nice as the exterior and sports a host of updates. The dash was re-skinned in a charcoal color to complement the custom tweed and vinyl door panel and seat covers courtesy of Ciadella. To really set off the dash Blake added billet inserts, Auto-Meter Phantom gauges, and topped it off with a Grant steering wheel. To round it all out fresh carpet and late model seatbelts were added to finish the interior up.
Under the hood you'll find a late model 1-Piece rear seal 350. Blake spent the same amount of time on his engine as he did the rest of the vehicle. The 350 has a Comp Magnum 280 cam, Edelbrock Performer intake, Holley 750 carb, MSD ignition, Two-step Rev Limiter, and Pro-billet distributor, Hedman headers, Flowmaster 2 chamber mufflers, and ported/polished stock heads. The power is transmitted through a beefed up TH350 that features a B&M Transpack and Holeshot 2500 TC. The power is finally fed to the Prostars through a 4.10 12 bolt rearend.
According to Blake he's not done yet. Future plans call for ported Vortec heads, Lunati Cam, B&M truck Mega-Shifter, ATI Procharger, Edelbrock Vortec Perfomer RPM Airgap intake, billet phantom grille, and cowl induction hood. This will be one truck you don't want to mess with. Keep us updated Blake.


Allen Posey of Woodland Mills, TN sent these pictures of his 79' outlaw EZ street truck. Allen purchased the truck as a wreck back in 1988. Since that time he has done all of the work to build the truck you see before you. The 79 shortbed weighs 3650 lbs. (thanks to a fiberglass hood, bumper, and roll pan), is powered by a 600 hp 454, and shifts through a Turbo 400 with TCI converter. Monocoque wheels are mounted on the four corners and are shod in Goodyear frontrunners and Mickey Thompson DOT's. Four wheel disc brakes have been added the this beast to bring it to a halt from its best 1/8th mile pass of 6.90. The rat is also equipped with a Nitrous Express Gemini twin nitrous system to inject more power in the rat's veins. However, the engine has never been juiced to see what it will run on the bottle. According to Allen the truck, "...has yanked the front wheels three feet high on the DOT's at our local track and goes straight as an arrow down track." What a cool truck! Thanks for the pictures Allen.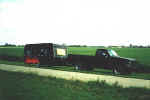 Jaap Pastoor from Holland emailed these shots of his 86 K5 Blazer and his K30 pickup. Jaap's trucks both have a unique past. They both served time under the military's use, and Jaap bought both from an ex-Cold War Army depot. The K5 is powered by a 6.2 litre Diesel and was purchased with only 3000 miles on the odometer! A restoration is planned for this year. The K30 is probably powered by 6.2 Diesel, but no information was included about this truck. Thanks for the pictures Jaap. It's good to see these trucks all over the world.