We are currently putting the Visitor's Rides page on HOLD. We are thinking of setting this page up for the Forum's Selected Visitor's Ride of the month. If you have any feedback, let us know on the forum. Visit the forums here: Forums
Visitor's Trucks: 1 2 3 4 5 6 7 8 9 10 11 12 13 14 15 16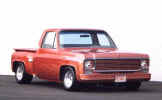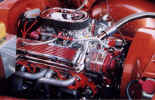 Mark Heckman is the proud owner of this Russet colored 1977 step side. Mark purchased this truck new in January of 1977 for $5200. But, like most of us, plain wasn't good enough for Mark. So, in 1996 Mark began a detailed list of modifications that would set his truck apart from all others.
The frame has been sanded, smoothed, painted, and dropped 6" closer to the ground. The body has been shaved, smoothed, and sprayed with Russet metallic lacquer and "ghost" flames. Open the hood and you're greeted by tons of shiny stuff that is all atop a 350 bored .030 over, and stuffed with components from Crane, Isky, and Comp Cams to name a few. On top of the polished Edelbrock intake sit two 500 CFM carburetors.
Mark's truck, nicknamed "Preshus," rolls on a set of Billet Specialties wheels inside BFGoodrich Radial T/A tires. Mark's truck is currently featured on TruckWorld.com and will be in a upcoming issue of Super Chevy magazine. Thanks for the picture Mark.

Dustin Cross sent us this shot of his 1974 GMC 3/4ton. A 454 is stuffed under the hood of this two-tone GMC. Dustin's truck also has A/C, factory tachometer, and a wood bed. Dustin's is also the first GMC to be posted on the site. Where are all the others? Thanks for the picture Dustin.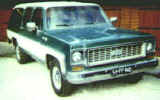 Bert Boot sent us this picture of his 1973 Suburban all the way from Amsterdam. You'll notice that even though this is a foreign Burb, the steering wheel is on the left side of the truck. That's because it was imported directly from California!
According to Bert, he has been able to keep it looking so nice because he has scored paint and preservatives from his job with the Amsterdam Tram Company. Bert's Burb is equipped with electronic ignition, a 350 V8, and is powered by Earth gas instead of gasoline. Bert says that he loses a few horsepower by running Earth gas, but saves money.
Next time we want to whine about the price of gas in the states, remember this, it costs $3.90 per gallon in Amsterdam! (For more information on Earth gas, email Bert at primadeluxe@hotmail.com.)

Max Verner sent us this shot of his Camouflage 1984 K30. The Camo crusader is powered by a 6.2 liter Diesel. To add some ground clearance on the trails, the K30 has a 4" Trailmaster suspension lift, double Trailmaster steering damper, and rolls on 35" BFGoodrich tires. In the bed you'll find a Smittybilt double roll bar, spare wheel on a special stand, and a Prorunner net instead of tailgate. Up front Max has added a homemade push bar to the nose of his K30. Thanks for the picture Max!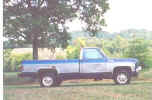 JK sent us a picture of his other truck. This time of his 1979 Camper Special. The truck shows 186,000 miles on the odometer and is powered by a 400 small block backed by a 400TH transmission. The tranny is hooked to an NP203 transfer case that sends the power to a 10 bolt front axle and 14 bolt full-floating rear axle wearing factory 16.5 X 8.25 wheels. The creature comforts that have made this an enjoyable 186,000 miles include power steering, tilt steering, power brakes, power windows, and air conditioning. Thanks for the picture JK.
Visitor's Trucks: 1 2 3 4 5 6 7 8 9 10 11 12 13 14 15