We are currently putting the Visitor's Rides page on HOLD. We are thinking of setting this page up for the Forum's Selected Visitor's Ride of the month. If you have any feedback, let us know on the forum. Visit the forums here: Forums
Visitor's Trucks: 1 2 3 4 5 6 7 8 9 10 11 12 13 14 15 16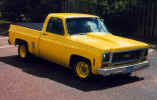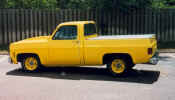 Jeff Dodge is the owner of this "Bright Yellow" 73' shortbed. Jeff bought his truck seven years ago and has been modifying it since day one. It has a rebuilt 350 that's been punched out .030 over, stuffed with a Crane cam, topped with an Edelbrock Air Gap intake and Holley 750 carb, is vented through Hooker headers, and is ignited by an HEI ignition. The mighty mouse has pushed the truck to a best time of 14.6 @ 93 MPH in the 1/4 mile. Underneath the truck has been dropped 4" on each end thanks to Bell Tech spindles, springs, and shackles. To cushion the ride Jeff has installed Bell Tech shocks on all four corners and the front end received a PST polygraphite kit. The inside features a 40/20/40 split seat, Auto-meter gauges, lighted rear view mirror, and Grant steering wheel. What you see on the outside is a smooth look created by a combination of shaved emblems, mirrors, trim, tailgate handle, and a cowl induction hood. After it was smoothed, the exterior was covered in "Ford Bright Yellow" paint. Jeff is currently in the process of doing a frame-off restification. The frame has just been finished and the future plans call for a 383 stroker, overdrive tranny, shaved stake pockets, cargo lights, and new paint. Thanks for the pictures Jeff. Good luck with the project!


Michael Monroe of Florida is the proud owner of this 1986 Scottsdale. Michael bought the truck in January of 2001, and has since redone just about everything on the truck. Michael's quick work has transformed the originally copper and tan tire truck into the shiny pearl white masterpiece you see here. The exterior modifications aside from new paint include a 10" drop rear bumper, Tuffliner Bedliner, chrome grille, new windshield and vent window, and American Racing "Atlas" wheels spinning 275-60-15 tires. Moving to the interior you'll find that the dash, door panels, bench seat, visors, and kick panels have been covered in grey pearl vinyl and black and grey marble tweed. To make driving his ride more enjoyable, Michael installed a Rockford-Fosgate CD player, 2 MTX amps, 2 Memphis 6 1/2" speakers in the doors, 4 Aria 5 1/4" speakers in the back panel, and 1 Bostwick 12" sub behind the seat. Under the pearly white hood you'll find the original 186,000 mile 305. Of course it's been treated to a few goodies including turbo mufflers and an Edelbrock 600 cfm carb. Thanks for the pictures Michael.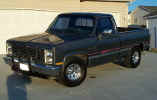 Tom S. is the owner of this 1987 R-10 shortbed. He has owned his truck since 1995 and has added a chrome grille, aluminum wheels, sunroof and smooth chrome rear bumper. Tom also stated, "I'm responsible for everything but the stripes." (He must not be to fond of them!) The 87' is powered by the original 350 EFI that, according to Tom, still runs great. Thanks for the picture Tom.

Bennie Necaise of Tebbetts, Missouri is the proud owner of this 1973 Chevy Cheyenne 1/2 ton. Bennie's Cheyenne is powered by a 350 crate motor that has been topped with an Edelbrock Performer Intake and a Holley 650. The exterior mods include new fenders and new blue paint. Underneath the suspension has been given 6" of lift to make room for American Racing Tailgunner wheels surrounded by 35" Wild Country tires. Thanks for the picture Bennie.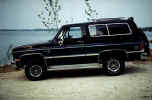 Doug Hewer of Bracebridge, Ontario, Canada sent us this picture of his 1987 Blazer. Doug's Blazer features the classic 350/350 combination with an NP208 transfer case sending power to the 31x10.5" Michelins on both axels. On the inside Doug has updated his Blazer with a CD player and two 15" subs. Thanks for the picture Doug.
Visitor's Trucks: 1 2 3 4 5 6 7 8 9 10 11 12 13 14 15