We are currently putting the Visitor's Rides page on HOLD. We are thinking of setting this page up for the Forum's Selected Visitor's Ride of the month. If you have any feedback, let us know on the forum. Visit the forums here: Forums
Visitor's Trucks: 1 2 3 4 5 6 7 8 9 10 11 12 13 14 15 16


Our own message board moderator, Dave Roy of Oklahoma, sent in these shots of his tricked out 86' SWB. Dave's truck sports a host of modifications. Starting with the most eye-popping part of the truck, the body, you'll first notice the wild scalloped paint by Custom Concepts in Oklahoma City, OK. In order to make those scallops stand out the truck underwent tons of cosmetic changes including shaved door handles, drip rails, emblems, bumpers, cargo light, and the addition of a full phantom grille.
Dave's truck doesn't stop here. Upon opening the doors you are greeted by stitched tweed interior, custom sub and amp box, relocated window switches and shaved inner door panels. Under the hood of this 4/6 slammed and scalloped scrapper is currently a mildly worked 305 with Edelbrock intake, carb and headers. The 305 will soon be scrapped in favor of a 330 hp 350 Chevy mated to a 700R4 race prepped tranny. Dave ride rolls on Weld Scorpion wheels tucked neatly under the wheel wells. Stop by and visit Dave's site for more pictures and information. Thanks for the picture Dave.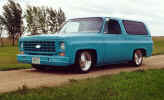 Trevor G. dropped by to show off his 1979 Blazer. Trevor's Blazer features new GM sheetmetal, custom front bumper with shaved bumper bolts and recessed driving lights, clear tail lights, 76' grille and bezels, shaved side marker lights, emblems, and door handles. The big Blazer has been, "lowered lots", according to Trevor and rides on 17 inch Centerline Apollo wheels. Under the hood lurks a balanced 383 complete with Vortec heads and an Edelbrock intake. Peeking behind the tinted glass we find light grey tweed and vinyl interior complimented by aluminum trim, custom white face gauges, an 81' dash, and 85' center console and seatbelts. And finally, a ground pounding 137db sound system consisting of a Panasonic remote controlled CD player, custom kick panels with 6 inch mids and 1 inch tweeters, 2 10" MTX subs powered by 2 MTX amps completes the interior. According to Trevor the best thing about his Blazer is "...between my friends and I we built it all." Thank for the picture Trevor.


Lane Tate submitted these shots of his 1980 unrestored Scottsdale. As it currently sits, Lane has added tinted windows, Sony CD player, and 2 4x10" speakers. Future plans for the truck include adding an Edelbrock intake and carb to the 350/350 power plant, rear roll pan, paint, and new stereo system. Good luck with your project Lane.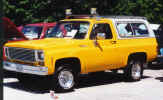 Scott of Pawtuckett, RI sent this picture of his 77' Blazer. The 375HP 350 features TRW flat top pistons, Fuelie Heads, Comp Cams 4x4 Xtreme cam, Holley intake, Carter 750 carb, and K&N filter. The interior has been well detailed with a yellow Grant steering wheel, Auto-Meter gauges with custom painted yellow needles, the seats and door panels are black with yellow trim, and finally the shifters are topped off with custom fitted skulls! Good luck at the shows Scott.

Nathan Decker of Niceville, Florida sent in this shot of his 84' Silverado. Nathan and his dad did all of the body and paint work themselves. They also added new bucket seats and laid down new wood in the bed. The black stepside is currently motivated by a stock 305, but future plans call for a crate 350. Thanks for the picture Nathan.
Visitor's Trucks: 1 2 3 4 5 6 7 8 9 10 11 12 13 14 15